Introduction to the Project

Design and Implementation of Modules
for the Extraction of Biometric Parameters
in an Augmented BCI Framework
GitHub Repository: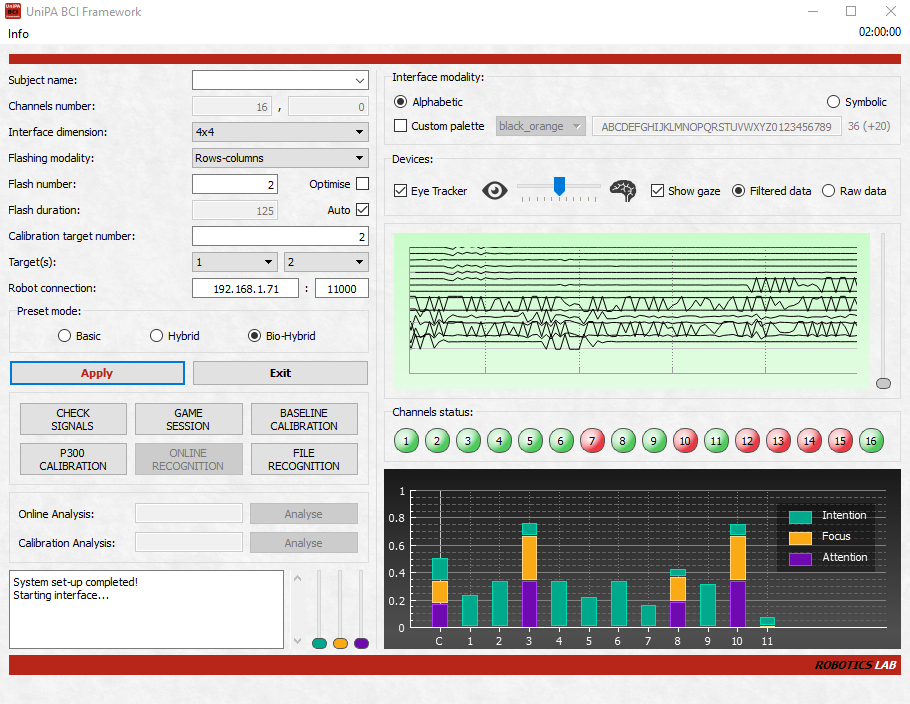 ---
Some information about UniPA BCI Framework
I have been developing the UniPA BCI Framework as a final project for my master's degree programme at University of Palermo, Italy.
The UniPA BCI Framework (in some occasions erroneously named UnipaBCI Augmented Framework) is an augmented framework based on the P300 paradigm and allows a user to select individual actions to be performed by a robot or, in the more classic configuration, to spell a sequence of symbols.
The framework takes advantage of additional developed modules, which perform the acquisition of eye gaze coordinates and biometric signals.
The use of such modules allows to achieve a combined response which does not only take in account the response of a traditional BCI system based on the P300 paradigm, but it also considers useful information, such as the user visual focus and her level of engagement with the system, providing a more robust and effective global response.
The thesis work has been conducted in collaboration with the ATR Institute International, Kyoto.
---
Resources:
Master's Degree Thesis: Read
Presentation: Read

ResearchGate Thesis publication: Link
DOI: https://doi.org/10.13140/RG.2.2.31562.36802

ResearchGate Presentation publication: Link
DOI: https://doi.org/10.13140/RG.2.2.32949.37603


ResearchGate related project: Link
ResearchGate pending paper: Link